WELCOME BACK!
Let's return to having healthy teeth, healthy gums, and avoiding dentures.
Dental hygiene is an essential service, and we are open. If you want a clean and healthy smile, we have appointments available soon. New patient dental hygiene treatments typically run between $200-$300, depending on what you need. Everything we do is discussed in advance and happens with your consent only.
If you have a barrier to accessing a dentist, we are also available for certain dental emergencies, defined by Dr. Bonnie Henry as infection, acute pain due to decay or fracture of tooth or restoration.
Our typical fee for a temporary emergency repair is under $200, which includes the emergency exam, an x-ray of the tooth and an Interim Stabilization Therapy repair. Fees can be paid for by cash, credit and etransfer. For people with dental insurance: We are currently not taking insurance assignment for emergencies, but we will provide receipts and claim forms so you can receive a refund from your insurance quickly.
Free Consults: Our telephone consult numbers are 250 832 6692, or 250 833 9923 (after hours)
* Everyone will be asked to wash or sanitize hands on-site, and practice social distancing outside of being in the dental chair.
* We will be wearing isolation gowns, an N95 masks and face shields in addition to the usual uniform precautions.
* Our new air fitration system is targeting aerosols and droplets.
* In keeping with our environmental policy, we are using washable fabric gowns, scrubcaps and chair covers that are exchanged after single use, to keep us all safe without contributing to the landfill. These reusable items are sewn on-site from locally sourced materials so you will not be charged for our protective equipment.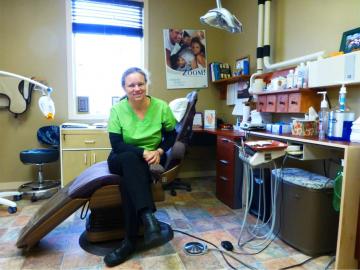 * Saving you future dental costs.
* Focus on prevention, not repair.
* Providing dental maintenance care for children and adults in the Shuswap.
= Promoting the Wealth of Oral Health=
Established in 2009, this clinic gives you dental professional options.
Full range of dental hygiene services
Our treatments are accepted by dental insurance plans, Healthy Kids and Ministry dental coverage
Short-notice appointments, and early morning, evening and Saturday options
Fast and safe in-office teeth whitening
Quality dental hygiene maintenance for periodontal or other concerns right in Salmon Arm
Cost-effective sports guard plans for children who keep up their oral hygiene appointments
Pain relief, interim stabilization therapy restorative and temporary crown / bridge recementing
Everyone is welcome, no referral or exam by a dentist required.